GBROC & Mini G 2022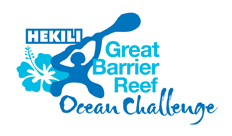 Welcome to paradise…
The Great Barrier Reef Ocean Challenge (GBROC) is BACK in 2022 and we want YOU to be a part of it!
Our Hekili family is excited to be welcoming you back to tropical north Queensland in July.
After a decade of hosting the Great Barrier Reef Ocean Challenge (GBROC), our commitment is as strong as ever to offer paddlers from around Australia – and the world – another excuse to come back to Cairns. We have listened to your feedback – and for the first time, GBROC 2022 and its sister event, mini G, will be over two, consecutive weekends (Saturday, July 16 and 23). This gives an opportunity to extend your stay with us, while challenging yourself over two distances (17km and 45km) on the best downwind courses in Australia! And if that's not enough paddling for you, plans are underway for a special, mid-week, twilight paddle so you can take full advantage our balmy winter and stunning coastline.
Keep your eye out for more details of our week-long 'Paddling in Paradise' package but importantly, claim the date (Saturday, July 16 and 23), book your flights and accommodation and we'll see you in Cairns for the paddling holiday of a lifetime!
If there's one thing the past 12 months has shown us is to never take for granted the opportunities we have to take to the ocean together. GBROC gives us the ultimate test of endurance and skill against one of the most consistently, awesome downwind runs anywhere in Australia.
In 2022 we honour the effort of 1000s of paddlers who have been a part of the GBROC story for the past 11 years. At 45 kilometres, the event remains the longest, most gruelling iron event and is now open to ALL craft (OC6, OC1, OC2, V1, V3, ski (Ocean & Spec., SUP, Prone & SUP Foil) in changeover format. Contact Us or our race co-ordinator Sue Lockwood on 0438 129 575 if you'd like to know more about these options, including hiring craft and support boats. Early Bird Discount Race Nominations CLOSE THURSDAY 30TH JUNE AT MIDNIGHT.
Catch up on the latest eNewsletter
Download the Race Program Hekili GBROC & Mini G Program 2022 Check out the latest Videos
To nominate go to the AOCRA Website, AOCRA Members can Log In, Non-AOCRA paddlers click on "I'm not a member but want to nominate for an event"
CLICK HERE AOCRA
Not quite ready to go the distance? The popular 17km Mini G (Cairns Marina to Yorkeys Knob) is the perfect way to ensure you don't miss out on the action or fun of a downwind run.
So set your intentions now, get your crew and/or craft together and we'll see you in paradise on July 16th (Mini G) and July 23rd (GBROC).
SAVE THE DATE. All crews/craft are invited to be a part of Mini G (17km) on Saturday, July 16, 11.30am start at Cairns Marlin Marina and GBROC 2022 from Yorkeys Knob to Port Douglas (iron or changeover) on Saturday, July 23, 8.30am start.
Results from 2021 GBROC & Mini G
---