News Updates
July 2017
Hekili had strong representation at the Port Douglas OCC regatta on 18 March 2017. The event at Tinaroo Dam was an excellent opportunity for paddlers to have some flat-water experience. Port Douglas OCC included a 'Skins event' as part of the program which really tested the fitness of paddlers. The results can be found on the web scorer site.
Carl, Greg and Rachel ran a steering clinic in the early part of the year where we had 10 paddlers come along to have some basic training. We are always encouraging people to have a try so that this improves their paddling ability and/ or encourages them to steer at training or in races. We will hold another steering session toward the end of 2017.
Coconuts OCC hosted the next regatta on 1 April 2017. We love paddling at this club and always have such a fun time. The results can be found on the web scorer site.
As part of our ever-present safety requirements, many club members completed their flip, swim and tread water skills in May. This year we did put covers on so that paddlers could understand how different it can be when you are upside down and zipped in. Everyone passed their assessment. Well done. We will conduct another session in November before stinger season.
Hekili were fortunate to be successful in securing a grant to purchase two Va'a canoes. These canoes are for the juniors to practice paddling and steering in a rudderless craft. Though there has been a few huli's they are all showing quite advanced skills. A big thanks to the Queensland State Government Get Going Club funding and Kai Ko'o paddles!
There were two GBROC events hosted by Hekili in June 2017. This was the first year that we decided to have a 'GBROC Half' on Saturday 3 June, a distance of 25km, and open to OC6 craft only. We understand that a 45km iron race can be quite challenging for new paddlers, so this is an opportunity to have a taste of distance racing. The GBROC IRON 45km down winder was held on Sunday 4 June. Conditions were excellent and attracted OC1, OC2, OC6, ski and SUP paddlers. Over the two days we had 182 paddlers on the water. This is always logistically challenging for our club members. Nevertheless, the events were a success! A big thanks to all the Hekili volunteers and a special thanks to Duane who took on the role as race director. The results and photos from both races can be found on our GBROC 2017 link.
This is the fifth year that Hekili has volunteered to run the Cairns IronMan bike support station at Wangetti. We had a fantastic turn out of members, friends and family on Sunday 12 June. It was a long day which started at 5.30am for the set up, and finished at 5.15pm. We have a great day providing the food and drink, cheering on athletes and hanging out with our mates. Have a look at some of the great pics taken by That Camera Guy of the athletes and Hekili support team. Also, well done to Karen, Ange and Sue B who actually competed in the Half IronMan !!!
Our Club is still supported by a fantastic and hard-working committee of Rhys (Club President), Jude (Secretary), Tracy (Treasurer), Steph (Registrar and Junior rep), Karl (Club Captain), Steve B, Carl and Simone.
Our junior paddlers are keen to paddle at Gubi Gubi this year in September/ October. The under 14 and under 16 teams have started training hard. The sprint turns are looking spot on.
Training has commenced for the Australian National Sprint Titles in early 2018. This event will be the qualifier for teams to represent Australia in IVF VA'A WORLD SPRINT CHAMPIONSHIPS in July 2018.
Lastly, our club is keen to apply the talents of our members so asked that another two members become accredited coaches. Both Vonnie and Buck attended the course run by the NQ Zone (Tuki and Darrell) in mid July. We are all looking forward to 'more effort' !

THERE ARE SOME FANTASTIC REGATTAS COMING UP IN THE NEXT 6 MONTHS. HEKILI WILL BE OUT IN FULL FORCE TO SUPPORT OUR LOCAL CLUBS.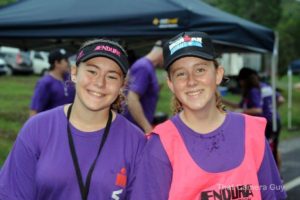 PHOTOS THANKS TO…….. THAT CAMERA GUY